Dxpedition to South Sudan
Welcome to SOUTH SUDAN 2011 DXpedition web site, where we'll give you more information about our DXpedition.
The Intrepid-DX Group and the DX Friends have combined efforts to planning a multi-national DXpedition to South Sudan to celebrate the birth of a new country.
QRT
Total QSOs: 121.286
STØR – South Sudan is approved for DXCC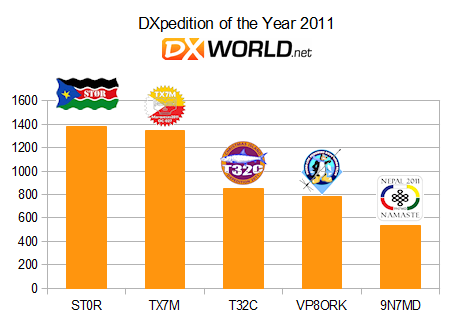 DX-Code of Conduct
Team members endorse the DX-Code of Conduct.
Respectfully requests stations calling us to kindly comply with the DX-Code of Conduct.
Team is composed of the following operators:
The Pilots
South Sudan
South Sudan, also known as South Sudan, is an autonomous region in the southern part of the Sudan, that will become an independent country on 9 July 2011. Juba is its capital city. It is bordered by Ethiopia to the east; Kenya, Uganda, and the Democratic Republic of the Congo to the south; and the Central African Republic to the west.
A referendum on independence for South Sudan was held on 9–15 January 2011. Preliminary results released by the South Sudan Referendum Commission on 30 January 2011 indicate that 98% of voters selected the "separation" option, with 1% selecting "unity". The final results were announced on 7 February with 98.83% of the electorate opting for secession. The President of Sudan Omar al Bashir accepted the results and has issued a Republican Decree confirming the outcome of the referendum. South Sudan is expected to become an independent country on 9 July 2011.
Extracted from wikipedia: http://en.wikipedia.org/wiki/Southern_Sudan
The Intrepid-DX Group and the DX Friends have combined efforts to announce our next DXpedition, to the newly created country of South Sudan, to take place after July 9th 2011.
The Intrepid-DX Group is the group which brought you the 2010 YI9PSE, IRAQ DXpedition. The DX Friends have brought you the 2006 SØ1R DXpedition to Western Sahara, the 2008 DXpedition to Rwanda as 9XØR, the 2009 DXpedition to Western Sahara as SØ4R, the 2010 DXpedition to Palestine as E4X and the 2010 DXpedition to San Marino as T7ØA.
As with previous DXpeditions, this will be a major effort. There will be five stations on the air, using amplifiers along with high performance beams and verticale dipole arrays, 24 hours a day for fourteen days.
Our primary objective is to activate South Sudan with a view to giving as many DXers as possible a first contact with this new DXCC entity and, as a secondary objective, to give as many band-slots as possible.
Thank you,
The Intrepid-DX Group and The DX Friends.